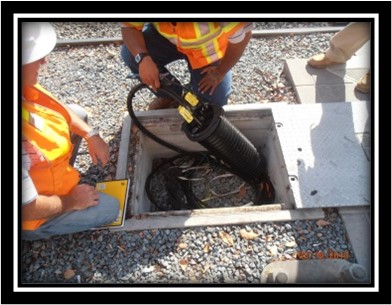 Client:
San Diego Association of Governments

Date Started:
Jan 15, 2013
Date Completed:
Jun 30, 2015
About Project
The MTS Orange Line is a 21 mile trolley line operating between downtown San Diego and East County. The Orange Line Rehabilitation and Trolley Renewal Project included improvements at nine stations. One of the improvements focused on real time train tracking. This systems project brought the Orange Line, which was previously non-monitored territory, into the MTS remote monitoring system located at 12th and Imperial.
Project Scope, Successes
The upgrade included the installation of Programmable Logic Controllers (PLCs) at select wayside rail cases to provide remote visibility of the track circuits, signal aspects and switch position indications related to train tracking.

The PLC information was delivered to 12th and Imperial via a new Ethernet local area network, interconnected to the existing wide area SONET network present at the Orange Line Stations. The design included identification of all vital relays within the wayside rail cases to indicate track circuits, signal aspects and switch position at interlocking and automatic block signal locations. The design reduced the total number of PLCs required to deliver the information by utilizing existing copper cable to consolidate indications from remote cases to the PLC case locations.

The network design utilized existing cables required an understanding of existing conditions and terminations of the Orange Line 24 strand and 144 strand fiber optic cables. PRE developed an approach that minimized use of the new fiber (reducing cost) and presented it, gaining approval from both SANDAG and MTS. The design approach broke down the fiber into aerial and underground locations and identified specific fiber splice work required for each location to the contractor.

The project was issued as a Job Order Contract (JOC) complete with plans, scope of work, construction estimate, projected construction schedule, and bill of materials to reduce delivery time. PRE participated in cost negotiations with the Contractor to clarify the scope of work intent and keep the overall construction cost under the engineering estimate. PRE provided design support during construction services answering RFIs, reviewing submittals, witnessing field testing, cutover and network integration activities.

In addition to providing design and construction support, PRE worked with the software developer, Rockwell Collins, to provide information and oversight for the updates to the 12th and Imperial monitoring system. PRE witnessed field testing and cutover to the new software system. To close out the project, PRE produced and distributed as built documentation to the wayside rail case locations.



Project Highlights
• Provided sealed design plans, scope of work, estimate, schedule and bill of materials for Job Order Contract.

• Fiber Optic Cable termination for network design that reduced overall cost.

• Provided design support during construction and witnessed field testing and cutover.

• Coordinated with and provided oversight to software developer.