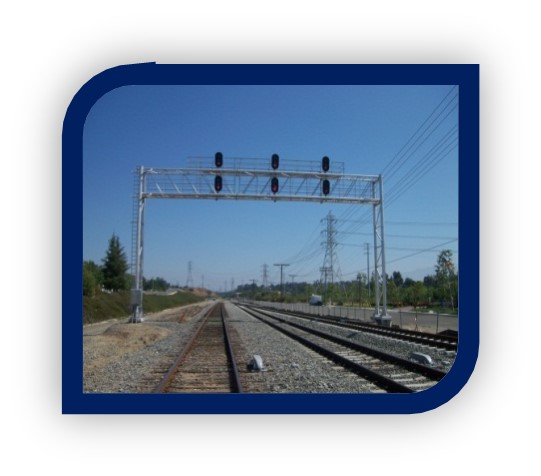 Client:
Southern California Regional Rail Authority

Date Started:
Jan 01, 2012
Date Completed:
Dec 13, 2013
About Project
As part of the PTC installation initiative, certain "old style" single point or flop over type derails were identified as needing to be replaced with modern double point derails in order comply with PTC systems. These double point derails ensure the safety and reliability of train operations within these subdivisions equipped with PTC.
This project rehabilitated aging and worn vital electronic signal system control equipment that had become failure prone and less reliable overall. In addition to the improved system reliability, installing new Electrocode 5 and Vital Harmon Logic Controllers aligns with SCRRA's current Engineering Standards and provides additional built in trouble shooting tools as well as data recording features. Lastly, the installation of new signal equipment reduced the burden on inventory levels and management of these systems to maintain components for legacy hardware.
Project Scope, Successes
Pacific Railway Enterprises, Inc. (PRE) into several key roles on this project. PRE's work included:

• Program and Project Management Services

• Preliminary site visits and rehabilitation recommendations

• Implementation of Metrolink standards and production of final design drawings

• Construction phase services (Management and Inspection)

• Supported SCRRA installation forces in the testing and commissioning of all locations

• Generated Bill of Materials (BOM) for each field location

• Material management including inspection of materials

PRE was able to contribute to the success of this project on many levels. Ultimately, we were able to rehabilitate ten (10) Electrocode 4 locations by installing new Electrocode 5 units. We were instrumental in the pre-testing, testing and commissioning of the new systems.

PRE also rehabilitated two (2) Electrologic 1A locations, replacing the existing signal control units with new Vital Harmon Logic Controller (VHLC) units. This system was also pre-tested and commissioned under the direction of PRE. Finally, we rehabilitated two (2) power derails at CP College with new double point derails for PTC compliance. This program is part of an ongoing effort to upgrade Metrolink's signal system and PRE will continue to provide value added recommendations and implementation support for this program.
Project Highlights
• Design of new EC5 systems and the staging plans for the Orange and Olive Subdivisions.

• Design Support and Inspection Services during construction. These services also included taking the lead in integration and cutover activities.

• Program and Project Management Services including station prioritization and management of contractors and other contracts.