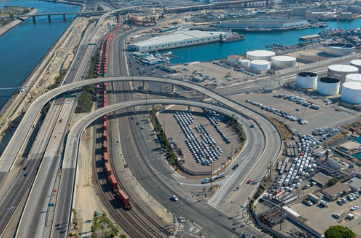 Client:
Port of Long Beach
Date Started:
Aug 21, 2019
About Project
The Pier B On-Dock Rail Support Facility project is ambitious in nature, converting a small railyard to a large facility for storing train segments to allow for greater rail traffic flow in and out of the Port of Long Beach. In order to set the groundwork for the actual main project, smaller projects were created which assist in providing additional operating capabilities for the railroads are the main project is being built out. The pinnacle of the project in terms of railroad signal is the modification of CP Crucero to a zoned control point. By zoning the control point, failures within one portion of the control point will not terminate signaled service for the entire control point. This is key to establishing fluid train movement between marine terminals and the Alameda Corridor, which routes train traffic to the rest of the United States.
Key components of the $1.5 billion program include:

Realignment of the existing Pier B Street and Pico Avenue
Closure of the Ninth Street at-grade crossing
Expansion of the existing rail yard to 38 storage tracks
A new locomotive staging and re-fueling facility; expansion of inbound-outbound staging tracks to accommodate up to five 10,000 foot trains
Removal of the Shoemaker Bridge ramps and other streets between 9th Street and 12th Street
Relocation of existing utilities
Relocation of existing mainline tracks into the North Harbor area
Widening of the Dominguez Channel Bridge to accommodate an additional track
Project Scope, Successes
PRE staff have developed preliminary engineering plans for the Pier B ultimate project. A major item for the project is the overhaul of CP Crucero. This complex control point needs to be at optimal operational reliability upon completion of the project, therefore PRE staff introduced the idea of using a split box design. Split box allows for greater flexibility when encountering microprocessor issues, which in the past would result in the entire control point becoming non-operational. With split box the problem area is non-operational, however the rest of the control point will be functional, allowing for train movement while maintenance is alerted of the issue.

The project identified three projects with railroad signal aspects as Early Work projects. These projects are West Expansion, Dominguez Channel Bridge and Locomotive Facility. West Expansion involves the installation of three active crossings, complete with crossing enclosures and crossing warning devices. Dominguez Channel Bridge involves the removal of a signal cantilever holding governing signals for CP Crucero and CP Long Beach and placement of dwarf signals as the bridge is expanded for a future track. Locomotive Facility involves the installation of a Locomotive Facility with modifications to CP Perry and CP Gaspur. Phasing is very important concerning Locomotive Facility, therefore PRE staff worked with other disciplines to develop a phasing plan which impacts railroad operations as little as practical.



Project Highlights
Zoned Control Point
Remote Throw Switch Machines
Yard Control System