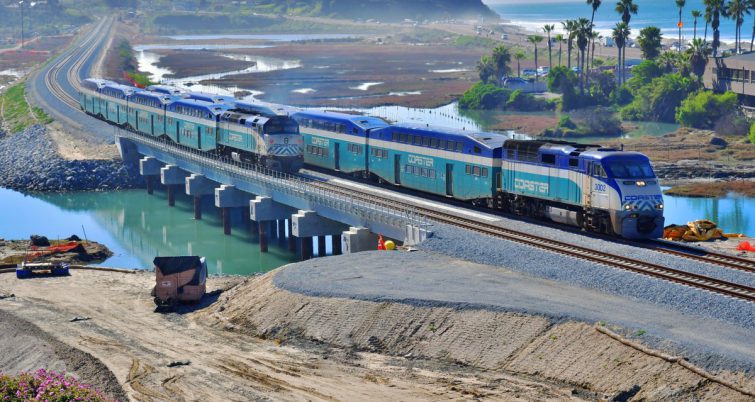 Client:
San Diego Association of Governments

Date Started:
Jun 01, 2017
Date Completed:
Oct 31, 2019
About Project
San Elijo Lagoon Double Track Project added 1.5 miles of second mainline rail track and replace an aging timber rail bridge on the Los Angeles– San Diego–San Luis Obispo (LOSSAN) coastal rail corridor between the cities of Encinitas and Solana Beach. The new track extends between Cardiff-by-the-Sea and the southern border of the San Elijo Lagoon, resulting in 4.2 miles of continuous double track. The previously existing single-track bridge, built in the early 1940s was replaced with a modern, double-track concrete bridge. Other elements of the project included signal and grade crossing improvements at Chesterfield Drive in Cardiff, two new rail crossovers, the construction of a retaining wall north of the lagoon to keep the rail tracks separated from the lagoon inlet, and track and signal improvements south of the Solana Beach train station.
Project Scope, Successes
As the railroad systems subconsultant, PRE provided plans, specifications and estimates through the 100% design phase for signal and communications. PRE worked to design Chesterfield Road crossing for the City of Carlsbad's Quiet Zone.

PRE's support during construction was spread over multiple years, as the project was constructed in multiple phases that supported continuous train operations. For each phase, PRE completed documentation and presented all applicable changes to the NCTD change control board, as a requirement of Positive Train Control (PTC). PRE also provided support to NCTD to verify PTC critical features, tested as each phase of construction was placed into service. This activity ensures that the coordinates of all railroad features are correct and available to the locomotive, supporting the algorithm for enforcement of safe breaking when necessary.



Project Highlights
• Replacement of a 1940's bridge

• Signal and communication system improvements

• Installation of new ATCS Antenna tower